Boya Mic – Most youtube beginners use only this Boya M1 mic. Because it's very affordable price with the best quality. You can connect this mic to your mobile phone and camera also.
But nowadays many fake and first-copy products sell boya mic without quality. So many beginners are also affected by this. Here below that mentioned few best ways to check your Boya mic is original or Fake.
How to check Boya mic is Original or Fake?
Compare your mic recording voice with your mobile phone mic recording. If both 2 output voices same, It's fake

On your mic center, the main part round type there? try to open that to put on a small size of a battery cell. In case no option to open there, that's fake.
On your mic's Box, mentioned a QR code, you can scan that QR code. That's automatically redirected to Boya's official website security code checkup. In case the QR not working, This fake
For a confirmation checkup, you can visit Boya's official Security code site (Link Below), and enter the Code number (Mentioned box below QR). If that mic is fake, it shows like this below mentioned image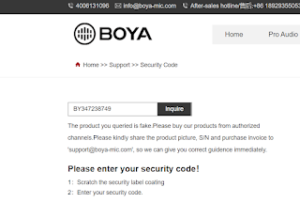 Original Boya mic: (Amazon Official Site)